Eating & Drinking
from €8 a dish // from €2,50 a drink
With a menu created specially by a local Pyrenean chef, Skylodge is sure to take your taste buds on a voyage of discovery!
Discover local products, our revisited regional specialities or even the best in international cuisine. Take a trip around the world with our tapas bar, soup bar, wine and ham bar, as well as our cocktail bar...
Open to everyone at any time, our catering services allow you to eat whenever you like throughout the day. There is something for everyone. Whether you're here for the night or just passing through, our bar, restaurant or rooftop tables await, ensuring you will have an excellent time!

Breakfast
Breakfast is served from 07:00 to 10:00.
Top up your energy levels with the self-service buffet that includes cereals, bread, butter, jam, orange juice and hot drinks.
The bar also offers breakfast extras like eggs, pastries, etc.

Lunch
Lunch is served between 12:00 and 14:00, when you can enjoy a break out in the sunshine on our rooftop terrace!
With our traditional or international soups, our grilled meat skewers and our revisited dishes you are sure to find something you fancy.
Don't forget that if you are feeling a little peckish, you can choose one of our delicious home-made sandwiches.

Snack
Feeling hungry? Between 15:00 and 19:00, join us at the bar or on the rooftop when the weather is good.
Treat yourself to some sweet crepes or waffles with hot chocolate.
Or if you prefer a savoury snack, choose our tapas or deli plates.

Dinner
From 19:00, you can start your evening with a selection of tapas.
Then discover our grilled food and revisited traditional dishes. For a completely authentic mountain experience, try a raclette!
The bar is open all evening with a selection of beers, cocktails and wines.
Restaurant
A little peckish? At Skylodge you eat what you want, when you want.With food from around the world, grilled meats, tapas, a wide selection of cheese, cured hams and much more, there is something for everyone!
Treat yourself to our modern cuisine that uses delicious local products for a new take on traditional fare
Bar
The bar opens at 07:00 and stays open all day. Hot drinks, fruit juices, cocktails, regional wines, and local beers are available throughout the day.
The bar also serves food, and offers tapas, grilled meats and desserts. It is divided into 5 areas each with its own special atmosphere.
Don't miss Happy Hour from 16:30 to 19:00!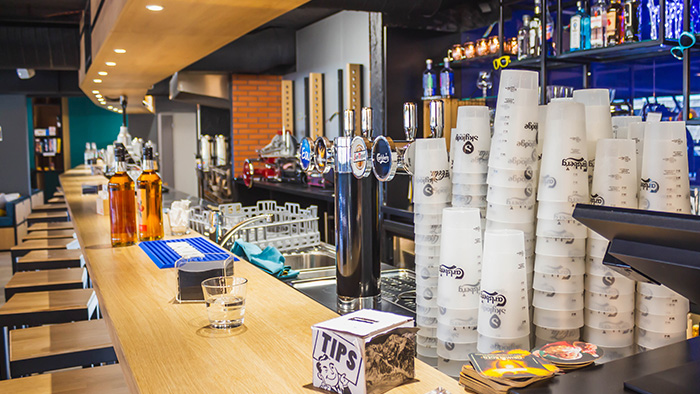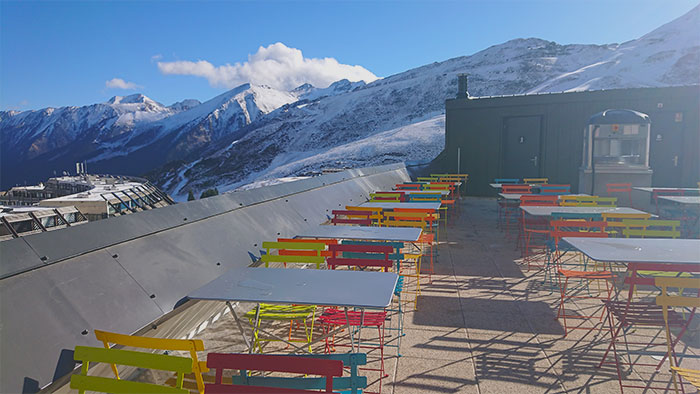 Rooftop
When the sun is out, everyone should head up to the rooftop! Enjoy the fresh air and mountain peaks with a 360-degree view of the surrounding summits.
Discover our plancha grill bar and let yourself be tempted by our selection of skewers that you cook yourself, or vary the pleasure by choosing something from our soup bar!